Internet to sheds, garages and remote buildings
Internet to sheds, garages and remote buildings is easier than you may think. Many Australians have turned their sheds or garages to a separate office or just a place to relax. The problem is, that the house Wi-Fi may not reach it or you get a spotty connection if you are lucky. Here at RFShop we have created ready to go kits, so you can either extend your home internet or create a new shed connection via 4G.
Extending Home WiFi to Shed or Garage
The primary advantage of using a wireless solution for connecting your outbuilding to your network is that you don't need to dig trenches for cables. Additionally, it can reduce your network's risk of lightning surges. The simplest way to connect to buildings wirelessly is via a Wi-Fi repeater (range extender). A Wi-Fi repeater connects to your Wi-Fi devices and a Wi-Fi router in your home and retransmits any data it receives. A Wi-Fi repeater will only work if it can connect to your home's Wi-Fi router with a good enough signal. That's where a good directional antenna comes in. We have created a directional antenna exactly for that purpose. View our Shed Link Ultra kit to extend Wifi around your property, hassle free.
Get a 4G Connection to a Remote Building
Use a regular 4G modem combined with an antenna and get a separate connection to your shed or outbuilding. This has the advantage of more bandwidth, especially if you are running your office out of your shed and need a strong reliable connection. If you have a metal shed or you are in a rural area, it is also necessary to have an antenna connected to your modem. We have done all the hard work for you and made a kit with all the necessary devices and cables, all you have to do is set it up.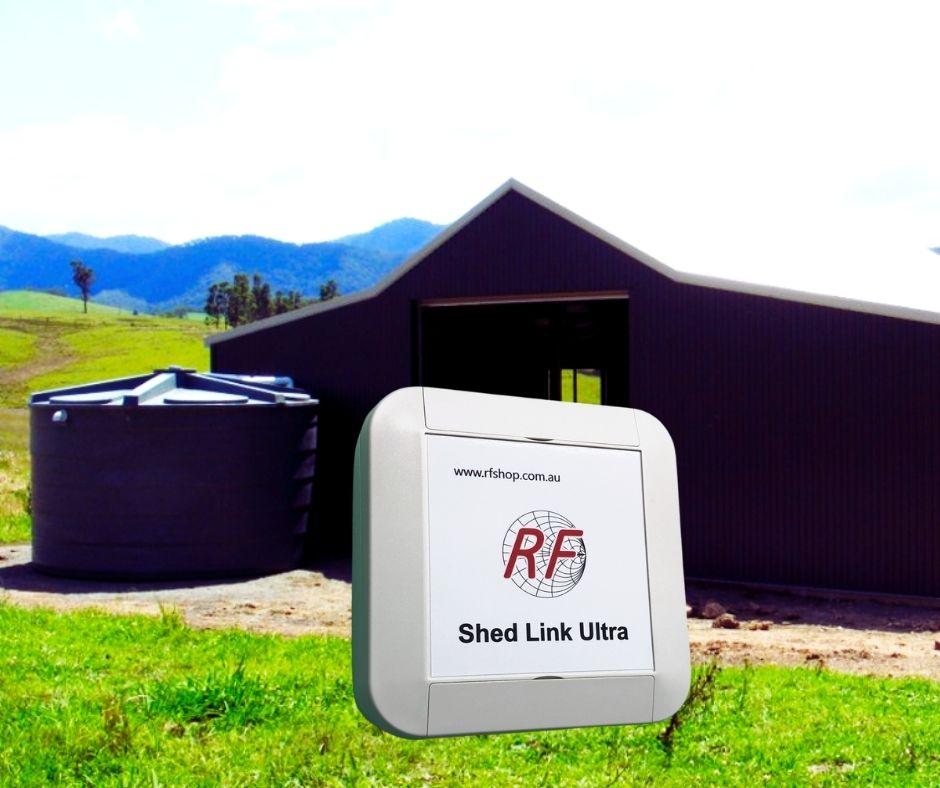 Ready to go kits for getting internet coverage around your property
Shed Link 4G – Connect your Shed to 4G
Get a strong reliable connection to your office shed with this kit. RFShop external omni antenna and industrial grade 4G router will get you online in no time. All you need is a SIM card.
Connect your shed to your home Wifi
If you need a wider reach for your home Wi-Fi network, we have a solution for you! The new Shed-Link Ultra has a powerful 9 dBi gain directional antenna, that you can mount on any wall or pole, and the Alfa network Wi-Fi extender, that you can plug in either in your shed or on the far side of your house and extend your Wi-Fi range.
FAQ's about Connecting Remote Buildings
How far can Wi-Fi reach outdoors ?
If you have a solid brick home, it stops the Wifi signal from reaching far outside your house. A general rule of thumb in the 2.4 GHz band indoors with no obstacles is about 40 meters. Outdoors with no obstructions is about 90 meter reach. But when you have a brick home and a metal shed then your home wifi may not reach the inside of the shed.
What is a Wi-Fi Extender?
A WiFi extender, also called a WiFi range extender, is a WiFi booster device that sits between your modem and the hard-to-reach area. WiFi extenders work by re-broadcasting your router's existing WiFi signal. You place the extender between your router and the dead spot area. We have a range of Alfa Network WiFi range extenders, such as…
What is the difference between a WiFi booster and WiFi Extender?
Wifi Extender and Wifi Repeaters are types of Wifi Booster. The booster works by increasing the signal strengths for reaching the destination. The extender works by extending the wifi network and creating a new wifi network. 
Do WiFi boosters or extenders slow down internet?
WiFi boosters and extenders do not slow down or speed up the internet itself. An extender may slow down your internet a bit. If you have enough bandwidth to cover all your devices, it will not be noticeable.  WiFi boosters will not slow down your internet. 
Where can I place my WiFi extender ?
The ideal location to place the Extender is half-way between your wireless router and your computer, but the extender MUST be within the wireless range of the wireless router. Tip: If you have to use a different location, move the Extender closer to the device, but still within the wireless range of the router.
Why do I need an antenna for my shed connection?
To pick up as much of the home wifi network as possible, you want to have a good directional antenna pointed at the house. The directional Wi-Fi antenna gain will help to improve the network quality and internet speed. 
Do Wi-Fi extenders work with any router?
Wi-Fi extenders typically work with any existing router, so you don't need to replace your router. An extender can substantially increase the reach of your network — positioned in the right place, you can even get coverage outdoors, like in your backyard.
Does Wi-Fi go through walls?
How far can a WiFi extender be from the router?
Generally speaking, the WiFi extender can be 30 to 120 m from the router. This will depend on a few factors, namely, your WiFi network itself, the layout of your home, the type of extender you have, and the positioning of these devices within your home.