Boat Internet Kits
In recent years, having an Internet connection has become increasingly crucial for recreational boaters and cruisers. Whether you're a full-time liveaboard needing to work remotely or simply wanting to access weather routing on a larger screen, reliable Wi-Fi access on a boat is essential.
While the idea of an ocean adventure or fishing trip without constant emails, phone calls, and technological distractions may sound appealing, the reality is that staying connected through technology is often necessary. Just as we install routers in our homes or offices to enhance our internet connection, having reliable internet on our boats is equally important for communication and safety.
When out at sea, communication plays a vital role, not only for safety but also for accessing navigational information and other data that can enhance your fishing experience. Working remotely from a boat offers numerous benefits beyond the serious aspects, including breathtaking views and increased flexibility.
By ensuring a dependable internet connection on your boat, you can experience the best of both worlds—an opportunity to disconnect and enjoy nature, while still maintaining the ability to stay connected and access the information you need.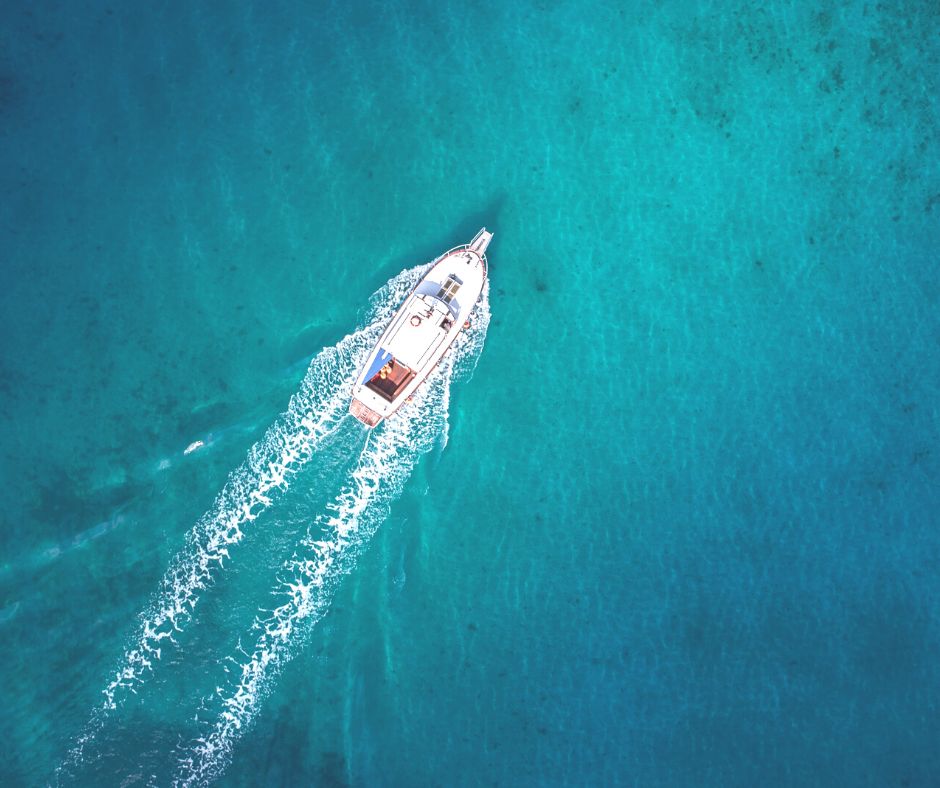 Options for Internet on the Ocean
Basic Boat 4G Internet Kit
The Basic Boat 4G Internet Kit provides everything you need to establish a reliable 4G connection while enjoying your time on the boat. This kit combines two 4G antennas, leveraging MIMO technology, with a top-quality industrial-grade 4G modem from Teltonika Networks.
The waterproofed antennas ensure optimal performance even in wet conditions, while the rugged design of the modem allows it to withstand bumps and extreme temperatures. Despite their durability, both the antennas and modem are compact in size, making them easy to mount and integrate into any boat setup.
The Teltonika RUT 360 4G modem, included in this kit, is specifically designed for harsh environments. It operates flawlessly within a wide temperature range, from -40°C to +75°C. Additionally, it can handle non-condensing humidity levels ranging from 10% to 90%. While the device can be installed outside, it is advisable to protect it from direct exposure to rain and water splashes.
With the Basic Boat 4G Internet Kit, you can enjoy a reliable and high-speed 4G connection on your boat, enabling you to stay connected and access the internet wherever your marine adventures take you.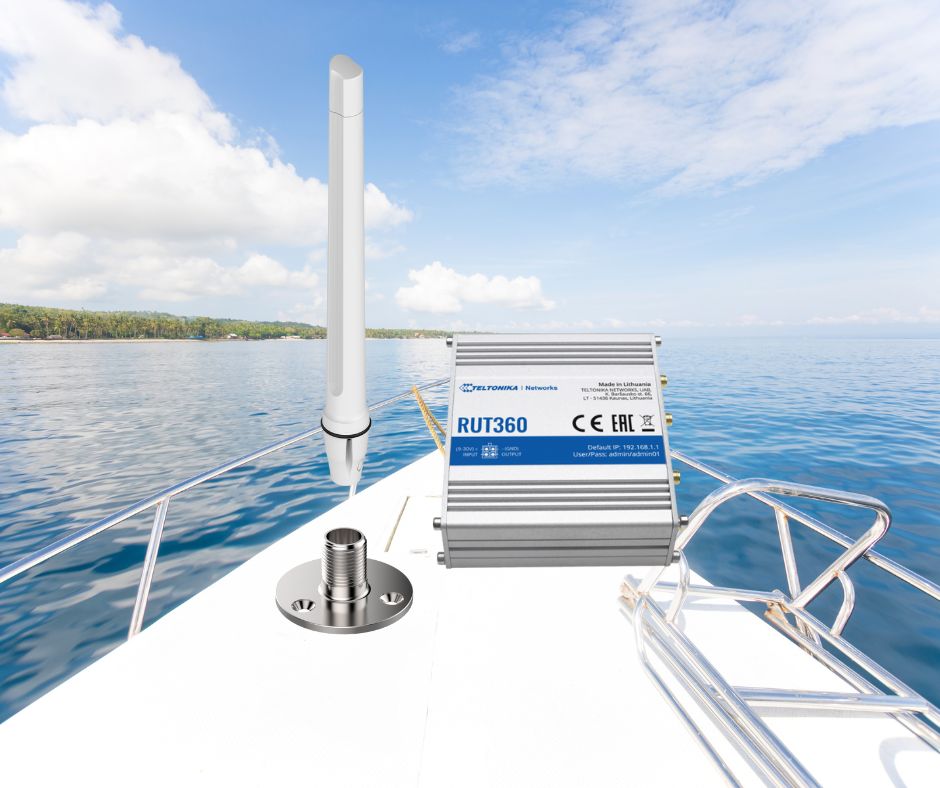 Performance Boat Internet Kit
The Performance Boat 4G Internet Kit is the ideal solution for obtaining a reliable internet connection on your boat. Through our tests, we have found that even when you are up to 60 km away from the coast, you can still enjoy a strong and stable connection.
The kit includes the OMNI-402 ultra-wide band antenna, which covers all the operating frequencies of contemporary LTE networks. With its exceptional balanced gain across all frequencies, this antenna ensures optimal performance. It also features 2X2 MIMO capability, utilizing vertically separated radiating elements, all housed within the same radome. Moreover, the antenna is future-proof, as it covers the 450 MHz LTE frequency band that is gaining popularity in various regions and countries. Additionally, it supports the 3300 – 3800 MHz frequency range, making it suitable for both coastal and inland use.
Designed for industrial applications, the rugged modem included in the kit is built to withstand demanding conditions. It can operate in temperatures up to 75°C, ensuring uninterrupted performance even in hot environments where regular consumer-grade modems might encounter issues.
With the Performance Boat 4G Internet Kit, you can stay connected and enjoy a reliable internet connection on your boat, no matter where your adventures take you.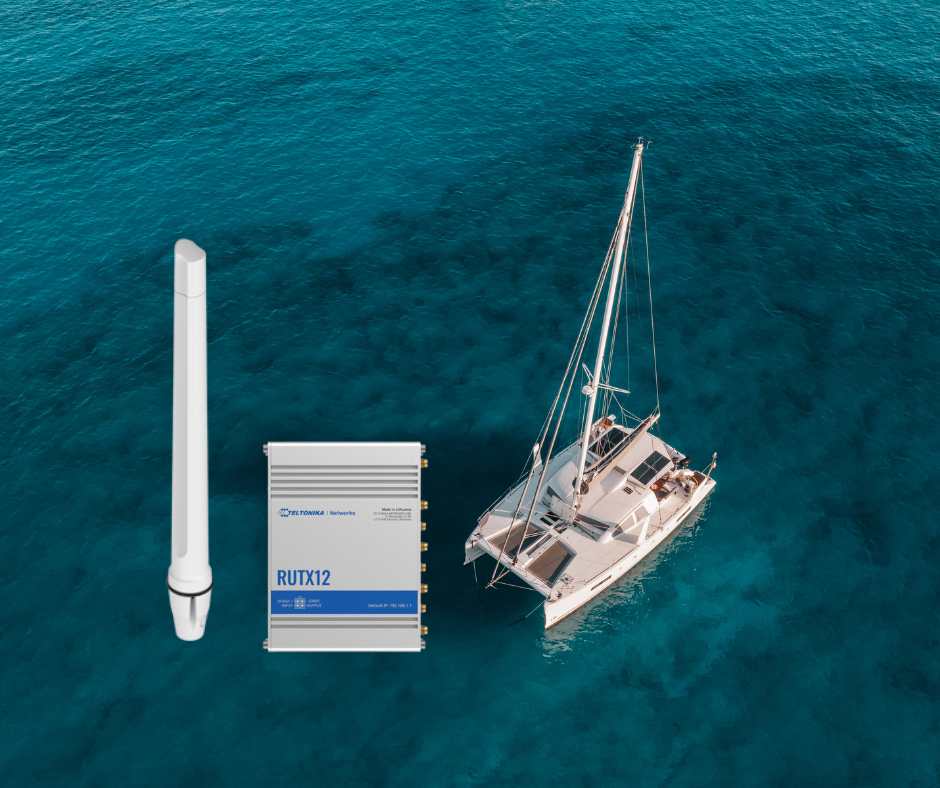 Advanced 4G Boat Internet Kit
The Teltonika RUTX12 is a powerful modem that offers the functionality of two modems in a single device. With its dual simultaneous LTE CAT 6 connections, it can achieve impressive cellular speeds of up to 600 Mbps. This means that you can confidently stay on your boat for extended periods, efficiently complete your work tasks, and stay connected without any interruptions.
Enhancing the performance of the RUTX12, the Poynting OMNI-414 antenna utilizes 4×4 MIMO technology. This means that it incorporates four antennas into a single unit, all working simultaneously to deliver the best possible connection. By leveraging this advanced antenna technology, you can experience optimal signal strength and improved data transmission speeds.
Moreover, the RUTX12 comes with dual SIM options, allowing you to utilize two different networks simultaneously. This flexibility enables you to choose the best available network coverage or combine two SIM cards from the same network to double your download speeds. With the dual SIM functionality, you can maximize your internet connectivity options and ensure a reliable connection while out on your boat.
By utilizing the Teltonika RUTX12 with the Poynting OMNI-414 antenna, you can enjoy fast and reliable internet access on your boat, empowering you to stay productive, connected, and efficient wherever your maritime travels take you.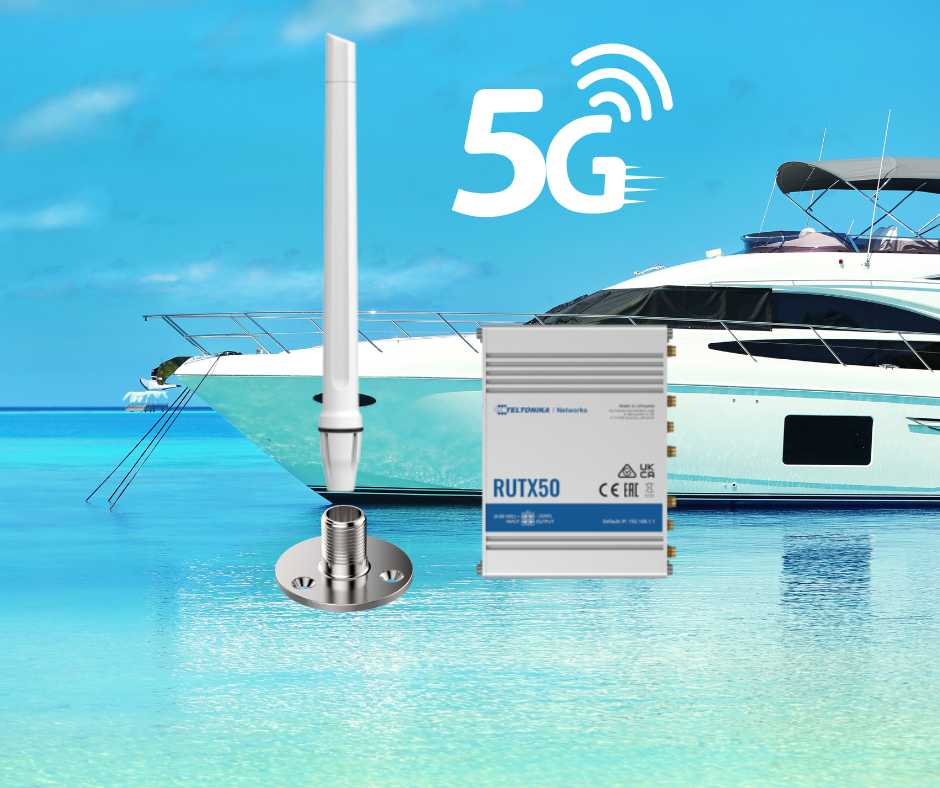 Ultimate 5G Boat Internet Kit
Introducing the ultimate 5G Internet kit for your boat, featuring the Teltonika RUTX50 5G modem and the Poynting OMNI-414 5G antenna. With this kit, you'll experience exceptional connectivity and extended off-shore range, ensuring reliable and high-speed internet access wherever your boat takes you.
The Poynting OMNI-414 antenna is equipped with 4×4 MIMO technology, which means it combines the power of four antennas into a single unit. This advanced antenna configuration maximizes signal strength and improves data transmission speeds, allowing you to enjoy a stable and fast internet connection even in challenging marine environments. The antenna comes with 2-meter cables, and optional extension cables are available to provide you with greater flexibility in installation.
Paired with the Poynting OMNI-414 antenna, the Teltonika RUTX50 5G modem delivers cutting-edge 5G connectivity for lightning-fast speeds and low latency. However, even if you're outside the 5G coverage area, this kit ensures you still benefit from fast speeds on the reliable 4G network. It offers versatility and future-proof performance, allowing you to make the most of the available cellular network technologies.
With the combined power of the Teltonika RUTX50 modem and the Poynting OMNI-414 antenna, you can significantly increase your off-shore range by tens of kilometers. Whether you're within 5G coverage or relying on the 4G network, this kit provides you with a seamless internet experience, ensuring you stay connected and enjoy fast speeds while out on the water.
Upgrade your boat's connectivity with the ultimate 5G Internet kit, unlocking the potential of advanced technology and keeping you connected with fast and reliable internet access
FAQ's about Getting an Internet Connection on Your Boat
How Does Internet Work on Boats?
If you are mostly staying within 100 km of coastal areas, using an antenna/modem combo is your best option. If you are out on the open sea a lot, satellite internet would be the way to go. 
What is the best router for my boat?
There are a variety of routers available in our store. However, the router you need depends on your download/ upload needs, the number of devices used, the dimension of your property, any interference, and geographic location. E.g. the Teltonika TCR100 is perfect for easy set-up at home, while the RUT950 or RUTX11 enable Dual-SIM and more bandwidth.
How do I get internet on my boat Australia?
In Australia, Telstra is the most reliable Network at Sea. You can just get a 4G or 5G modem (such as the Teltonika RUT360 or the NightHawk M6) and add an antenna (e.g. Omni-402), use your SIM-card and you are ready to go. 
How much does Maritime Internet Cost?
If you are mostly in coastal areas, you can use the same prepaid or 4G plan you use on your phone. The antenna and modem kits are a once-off cost of around $600-$1200 AUD. IF you go out to the open sea, Starlink Maritime is now available and the company is targeting the owners of superyachts, oil rigs and merchant vessels as potential customers. The service has an upfront hardware fee of $10,000 for two 'ruggedized' Starlink dishes and regular costs will run $5,000 per month
How to get free internet on a boat?
Most marinas have a Wi-Fi network available. If the signal is weak, you can get a Wifi range extender such as the Alfa AWUS1900 or AWUS036ACH – they cost from about $99 to $125 AUD. No need for a SIM-card. 
Can I use any SIM in a 4G router?
Yes, you can insert any SIM in your 4G router. We have routers available in our store that can accommodate one SIM or two SIM's (dual SIM), depending on your needs. However, you would have to purchase a SIM from a broadband network retailer for use with our kits.
Does a signal booster really work?
Basically, signal boosters are legal devices that help improve phone call quality, but it does not help much with a data(internet) connection. 
What does a 4G modem do?
A 4G WiFi router, containing a built-in LTE broadband modem, uses a SIM card to share internet connections. You can use a 4G WiFi router for internet sharing anywhere, as long as it is within the network range of the network service provided by your mobile operator. In areas with poor signal, using an antenna is a must.