Description
The 4G home Internet Kit
Consist of the Poynting XPLO-2-5G V3 MIMO antenna and the Teltonika Networks TCR100 4G Wi-Fi router for home user. Choose the Coax cable length that is suitable for your home: 5, 10 or 15 meters. The XPOL-2-5G can be ordered with either 5m SMA cable or 0.5 m cable or with N-Type connectors. For cable lengths longer than 10m as well as instances where the receiving antenna/tower distances are a challenge one should consider N-type connectors and using low loss cable like CLF-240 or CLF-400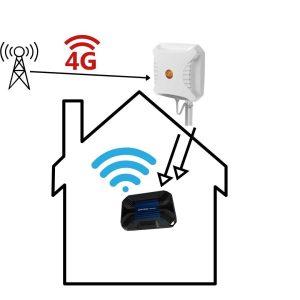 Why the Teltonika TCR100 Home 4G Modem ?
At home we look for a simple connectivity solution that does not involve complex setup procedures. No one wants to jump through hoops and various settings to enable safe connectivity. Further managing your network and connected devices must not become a chore, so a simple-to-understand interface is always necessary and that is what this modem provides.
Reliable, secure, and easy to use – TCR100 is the perfect choice for any home network.
The TCR100 represents Teltonika Networks extensive industrial IoT experience brought straight to your home.
Two Ethernet interfaces and Dual-band Wi-Fi allow to connect multiple devices with ease!
TCR100 features connectivity indicators, Wi-Fi, and Wi-Fi Protected buttons for quick and simple setup.
With 4G LTE-A technology you can use TCR100 as a primary or a backup connectivity source.
With the first-ever consumer router from Teltonika Networks, you get a user-friendly solution for setting up your home connectivity. Even in remote areas in the city outskirts, you can have stable internet, as TCR100 offers an option to use 4G cellular connectivity without compromising your speed. So, it is a perfect choice, even if a wired connection is not possible in your specific location. In this use case, the two Ethernet ports of TCR100 accommodate a smart TV and an NVR (Network Video Recorder) that stores the video feed from connected IP cameras. The rest of the devices like a smart fridge, laptop, AC and alarm systems can wirelessly connect to the network. You can then use data from connected equipment to optimize your IoT setup. Unlike standard home routers, which can usually support up to 15 devices, the TCR100 has upped that limit to over 50 thanks to the applied know-how that Teltonika Networks brings from the industrial sector. TCR100 is made for home use and easy to set up right out of the box. It even features Wi-Fi and Wi-Fi Protected buttons to create wireless network access with just one click. Besides, a user-friendly WebUI provides all the needed customization options and enables you to turn on guest Wi-Fi, further increasing network security. This router also has a pre-configured firewall that ensures the basic safety of your home network. On top of that, TCR100 receives regular firmware updates that periodically eliminate vulnerabilities and bring new functionality.
Why the Poynting XPOL-2 Directional 4G/5G Antenna ?
The Poynting XPOL-2-5G version 3 looks the same as the previous V2 but is completely redesigned on the inside. It works in 2G/3G/4G and 5G. This 4G Home Internet Kit is using a Teltonika 4G modem, so for now it is for the 4G network, but as soon as we have a 5G modem from Teltonika available, this antenna will be used in our 5G Home Internet kit as well. If you already have a 5G modem and are just looking for the antenna, please click here.
Features
Consistent broadband performance
X-Polarised 2X2 MIMO Antenna
Wall or pole mountable
Lightweight & Rugged
Weatherproof & waterproof (IP65)
High pattern consistency across bands for 4G/5G carrier aggregation
New 3400 to 3800MHz, 5G band with 11dBi gain
Application Areas
Outdoor antenna for Fixed Wireless Access (FWA)
Consumer LTE/5G internet connectivity
Industrial & Commercial LTE/5G deployments
Urban and rural household reception enhancement
Agricultural & Farming LTE/5G data distribution
Power, Energy & Water telemetry access
Oil & Gas communication systems
Municipal & Government systems
Repeaters & coverage enhancement amplifiers
The antenna has improved bandwidth which means more data can be transmitted over an internet connection, equals more devices running at the same time, with no problems. If more bandwidth is what you are after, you can also upgrade to the Teltonika RUT950 modem.