Home & office kits
In today's digital and fast-paced world, having a fast and stable internet connection is essential for our modern homes and offices. With the increasing number of devices we rely on, such as laptops, phones, tablets, and virtual assistant devices like Amazon Alexa and Google Assistant, having a gigabit internet connection has become a must-have.
If you're looking for fast and reliable internet connectivity, you're in the right place. We offer a range of tailor-made kits designed to meet your specific home or office internet needs.
Our 5G/4G ready antenna kits are the perfect solution. These kits include cutting-edge Poynting antennas that are 5G-ready, along with a robust 4G router from Teltonika Networks. We provide an efficient coaxial cable to ensure optimal performance. With these kits, all you need is a SIM card from your internet service provider, and you can equip your home or office with high-speed 4G/5G internet.
Experience the benefits of our kits and enjoy fast-paced internet connectivity in your home or office. Stay connected and keep up with the demands of the digital world.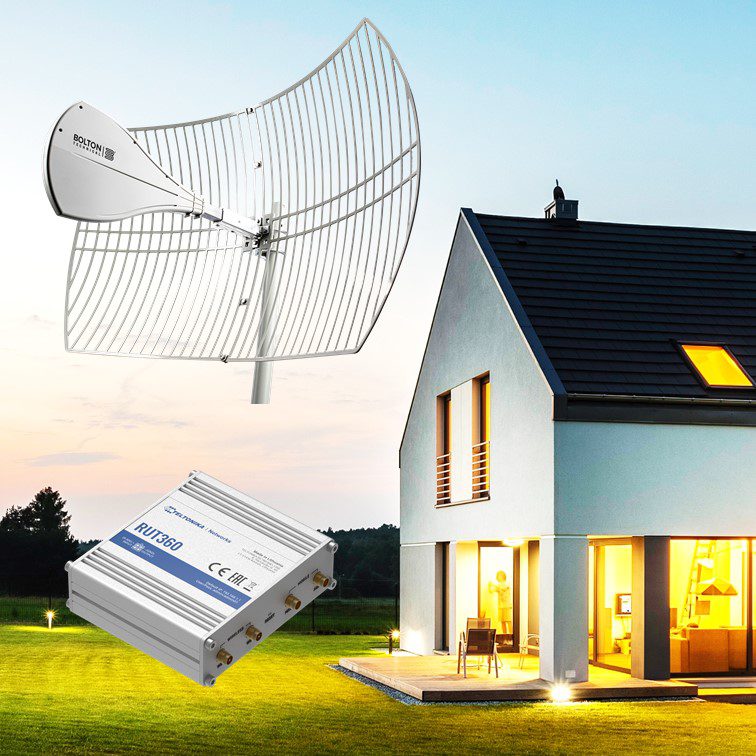 4G Antennas and Wi-Fi Products for Home and Office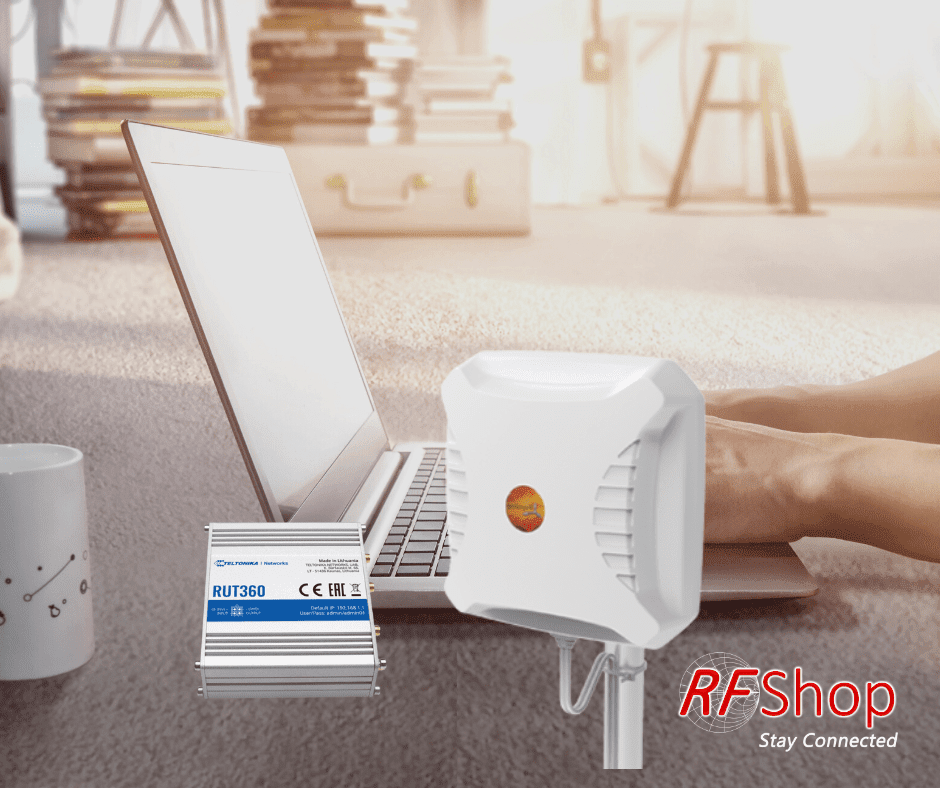 4G Home Internet Kit
Are you searching for a reliable and budget-friendly internet connection for your home or office? Look no further – our basic kit is the perfect solution for your internet needs.
This kit includes the Poynting XPLO-2-5G V3 MIMO antenna and the Teltonika Networks RUT360 4G modem. We understand that when it comes to home connectivity, simplicity and ease of setup are crucial. Nobody wants to deal with complex procedures and endless settings to establish a secure connection. Additionally, managing your network and connected devices should never feel like a burden. That's why our kit provides a user-friendly interface that is easy to understand and navigate.
With the Teltonika Networks RUT360, the first-ever consumer router from Teltonika, you can enjoy a hassle-free setup for your home connectivity. Even if you reside in remote areas on the outskirts of the city, you can still enjoy stable internet connectivity. The RUT360 offers the option of utilizing 4G cellular connectivity, ensuring reliable speeds even when a wired connection is not feasible in your location.
The Poynting XPLO-2-5G V3 MIMO antenna enhances bandwidth, enabling the transmission of larger amounts of data over your internet connection. This means you can have multiple devices running simultaneously without experiencing any performance issues.
With this comprehensive kit, you'll have everything you need to access high-speed internet from the comfort of your home or office. Simply obtain a SIM card (not included) from your internet service provider, and you're all set to enjoy reliable and fast internet connectivity.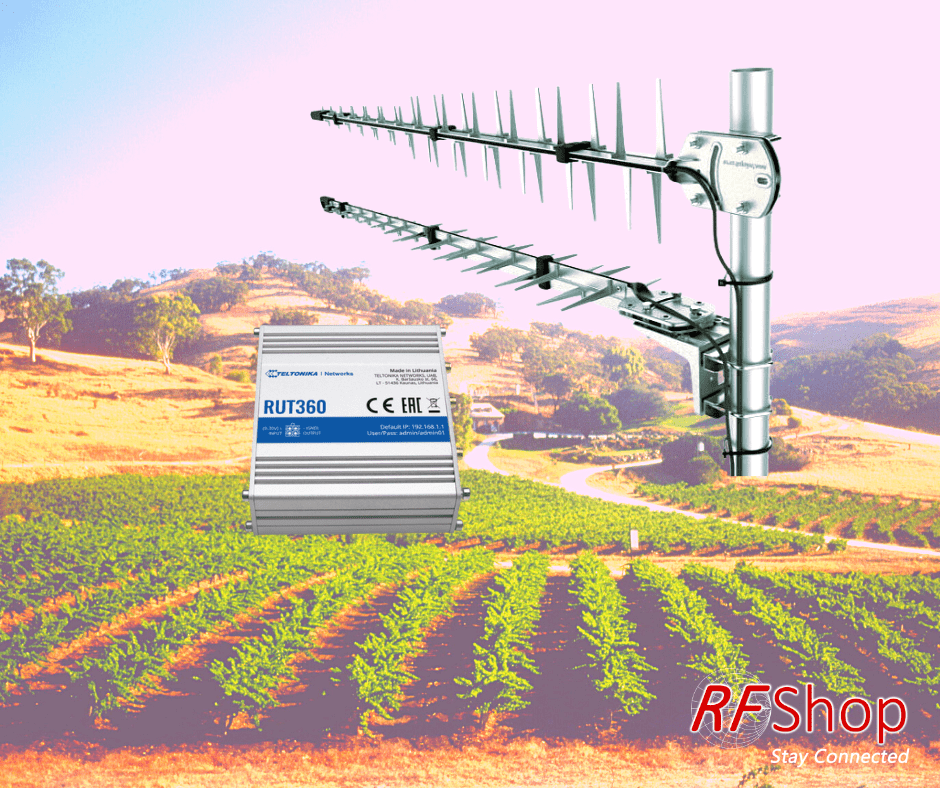 Remote Home 4G Internet Kit
If you're looking for a reliable and efficient internet solution for rural areas, our Remote Home 4G Internet kit is the perfect choice. Designed specifically for areas with poor signal, this kit includes the Poynting antenna and the Teltonika modem to ensure a strong and dependable connection.
The Poynting antenna has been extensively tested in extreme weather conditions, making it a durable and reliable option for rural environments. It offers excellent range and is specifically designed to overcome the challenges of weak signals in rural areas.
Installing the antenna is a breeze, as it can be easily mounted on a pole using the included brackets. The Teltonika modem is an industrial-grade device that is both easy to set up and of superior quality. Right out of the box, you can quickly and effortlessly set up the modem in your home. The user-friendly WebUI provides customization options, allowing you to enable guest Wi-Fi and enhance network security.
With its pre-configured firewall, the modem ensures the basic safety of your home network. Additionally, the RUT360 modem receives regular firmware updates that eliminate vulnerabilities and introduce new functionality, keeping your internet connection secure and up to date.
The Remote Home 4G Internet Kit includes the Poynting LPDA-92 antenna adjusted to MIMO, along with the Teltonika Networks 4G Wi-Fi Modem. The kit also includes mounting brackets and coaxial cables, providing everything you need for a seamless installation. Simply obtain a SIM card from your chosen service provider, and you'll be ready to enjoy fast and reliable internet connectivity in your rural home.
Home 5G Internet Kit
Introducing the Home 5G Internet Kit, your solution for top-of-the-line business or home internet. This kit offers superior performance at a more affordable price compared to Starlink, with the added benefit of choosing your preferred network SIM card. Our kit has been proven to deliver faster speeds, ranging from 200 MB/s to 460 MB/s, with no latency or drop-outs. Now you can seamlessly stream, game, and connect multiple devices without interruption.
The modem in this kit is equipped with external Wi-Fi antennas, ensuring a wide and consistent range of Wi-Fi coverage throughout your house. Say goodbye to dead zones and eliminate the need for additional devices like Google Mesh. We've carefully selected the best-in-class components for this kit, featuring the Teltonika RUTX50 industrial-grade 5G modem paired with the flagship Poynting XPOL-24 antenna.
The Home 5G Internet Kit is suitable for most stationary applications and is compatible with 4G and 3G networks, providing exceptional signal strength even if 5G is not yet available in your area. By investing in this kit, you're future-proofing your connection for the next 10 years, ensuring a reliable and high-speed internet experience. The modem's durable aluminum casing ensures longevity, and the external antennas can be upgraded as technology advances.
FAQ's about 4G antenna for home and office
Are 4G antennas a worthy investment ?
External antennas allows you to get the maximum performance from your 4G/5G broadband at your home or office. Attaching an external antenna to your router can increase the signal strength thus giving you faster upload/download rates and reliable internet connectivity. 
What is the best router for my home or office?
There are a variety of routers available in our store. However, the router you need depends on your download/ upload needs, the number of devices used, the dimension of your property, any interference, and geographic location. E.g. the Teltonika TCR100 is perfect for easy set-up at home, while the RUT950 or RUTX11 enable Dual-SIM and more bandwidth.
What is a Cel-Fi device?
Cel-Fi is a device, similar to a cellular repeater, designed to eliminate in-building dead zones and improve indoor mobile phone reception. Created by Nextivity, Inc., the Cel-Fi systems are designed with smart antenna technology to seek out the best available signal to maximize signal gain to phone users.
Why would I use a 4G modem if Cel-Fi already boosts my signal?
Because the quality of the data connection you get from a signal booster is not as good. Signal boosters are excellent for boosting the quality of your voice calls, but your internet connection will not be equally good, this is where the 4G modem is superior.
What are the factors that affect the Wi-Fi strength/internet speed?
There are several factors that affect the quality of the internet. These include the type of router/modem used, the distance of the device, like laptop or phone from the modems,  interference between the modem and the device, and the number of devices connected to the network.
Can I use any SIM in a 4G router?
Yes, you can insert a SIM in your 4G router. We have routers available in our store that can accommodate one SIM or two SIM's (dual SIM), depending on your needs. However, you would have to purchase a SIM from a broadband network retailer for use without kits.
Does a signal booster really work?
Basically, signal boosters are legal devices that help improve call quality, weak cell signal, and provide faster data speeds. If you have usable signal outside your home, vehicle, or office building, but weak to no signal inside, then a cell booster will definitely improve your cell service and signal strength
What does a 4G modem do?
A 4G WiFi router, containing a built-in LTE broadband modem, uses a SIM card to share internet connections. You can use a 4G WiFi router for internet sharing anywhere, as long as it is within the network range of the network service provided by your mobile operator. In areas with poor signal, using an antenna is a must.